Although iCloud is the right solution for sending or receiving files from iPhone and iPad between mobile devices and computers, the cloud solution is not so interesting for mass file sending.
That is, backing up the system or even sending large files becomes impracticable. After all, a small connection failure means interrupting the sending, forcing you to start over from scratch. That's why EaseUS MobiMover is so useful.
Facilitating the transfer file between iPhone and Mac, use your device's USB cable to connect your iPhone or iPad to your computer, whether it is a Windows or Mac. From there, you can use EaseUS MobiMover to perform the transfer or simply manage files with ease on the PC.
See below what EaseUS MobiMover is, what are its main features and a small step-by-step on how to transfer files from iPhone to your computer using the software.
What Is EaseUS MobiMover?
As mentioned above, the purpose of this EaseUS software is to help transfer and backup data from your Apple smartphone or tablet to your computer, or export contacts from iPhone. EaseUS MobiMover can do all of this for free.
That is, you can download iPhone transfer software for free, allowing greater control over what is installed or uninstalled from your devices. Not to mention that managing files on your computer screen is much easier than on your iPhone.
Another point to consider is that you don't have to limit yourself to transferring files between iOS devices and your computer. You can use the software to exchange files between an iPhone or iPad and even between two iPhones/iPads.
This means that you can also use it to transfer photos, videos, apps and documents between an old and a new iPhone, for example. MobiMover is compatible with iOS devices from version 8 to the current iOS 13.
Main Features Of The MobiMover Application
File Transfer is undoubtedly the flagship feature of EaseUS MobiMover. As you can see throughout the article, it is possible to transfer files from recent iPhones and iPads, as well as smartphones equipped with older versions of Apple's operating system.
Also, using the software to manage files from all your devices is an excellent idea, as you don't have to rely on iCloud. You are not even exchanging between two devices to make sure that the correct data has been successfully transferred.
Another feature that we have not yet commented on is the possibility of crossing the iPhone lock screen. Ideal for those with children at home, who may end up blocking their device when trying to open the screen using the wrong combinations.
You can also use EaseUS MobiMover to get videos from the leading internet video platforms. One of its advantages is that you can download directly to an iPhone or iPad, instead of downloading it to your computer and only then transferring it to your mobile device. This amazing feature is completely free!
How To Transfer Data From iPhone Using EaseUS MobiMover
The first step, of course, is to download the software onto your computer. Then connect your iPhone or iPad to your computer using a USB cable. It is worth mentioning that the original wires that come with the device are the most suitable for the process.
1. Open EaseUS MobiMover and click on the iPhone to PC option in the menu on the left of the screen.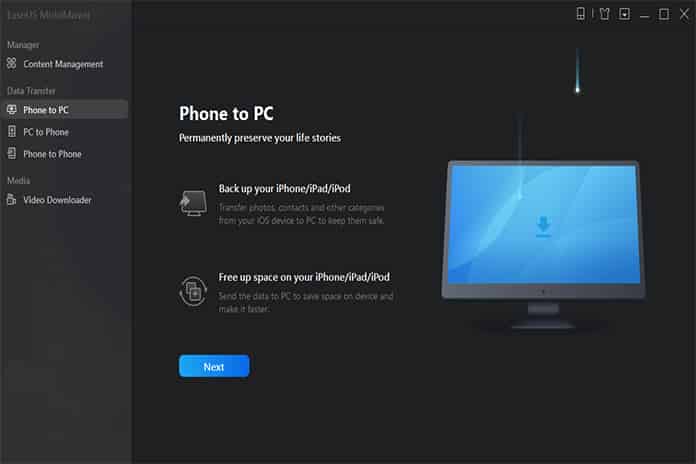 2. Now, choose the files on your iPhone or iPad that should be stored on your computer.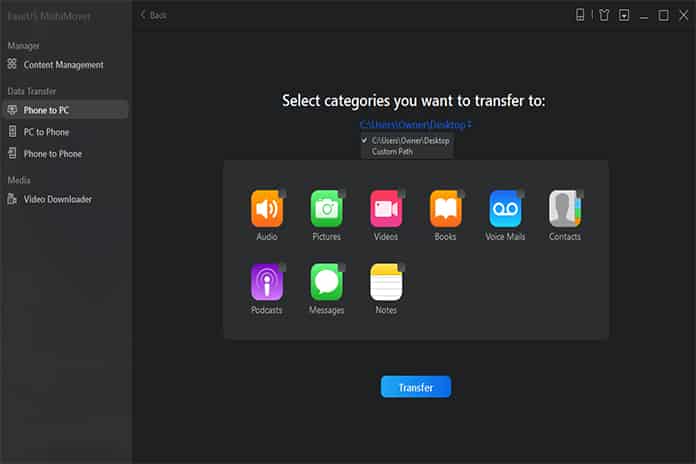 3. Confirm your selection and click the Transfer button to start sending.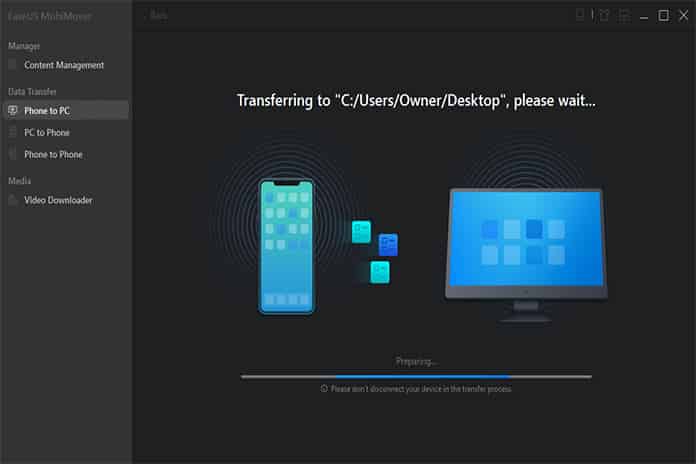 4. Now, wait a few moments – according to the number and size of the files sent – and your iPhone data will be safe on your computer!
See also below how to manage your files on mobile devices from EaseUS MobiMover!
How To Manage iPhone Data
In the same menu on the left that we mentioned in the walkthrough above, click Content Management this time.
Choose the files you want to manage. In the top bar, you can filter your searches by the types of files you have on your iPhone or iPad.
You can transfer them between devices, remove them or edit them. To do this, click on one of the Add Content, Transfer to PC or Delete buttons, located on the top bar on the right of the screen. Select the option that matches what you want to do.
Why EaseUS MobiMover Is A Complete App?
Are you interested in the solutions and facilities that EaseUS MobiMover offers for your iPhone or iPad? With it, you will be able to backup or transfer your main files from iOS devices and keep them safe on your computer.
With this, you increase the number of places where an important document is stored, preventing you from losing it. After successfully transferring, nothing is stopping you from also sending it to any of the leading cloud storage services available on the market!
After testing EaseUS MobiMover, we can say that it is a convenient app that does what it promises, and offers a reliable and straightforward method of transferring and managing our files between mobile devices and computers.
Indeed, your transfer limit may not be enough for many, the payment option offers us a tool with many possibilities and without limitations that will allow us always to have our files in a safe place.