Owning a credit card could have different meanings for most people and you. For many, it is a way to live a convenient and hassle-free life, where carrying hard cash is not a necessity. For you, it could mean better rewards and the joy of earning financial independence.
You could be inspired by one or more such reasons and may want to own the best HDFC credit card. Your ambition should know no end, which is why there is a wide array of options when it comes to a credit card from HDFC banking institution.
Get to know about the different options of credit cards available from the bank for your perusal.
Top Credit Cards From HDFC Bank
Infinia Credit Card
This card belongs to the super-premium category and can be availed only by invite from the bank. It seeks to offer a global experience to its users with premium services.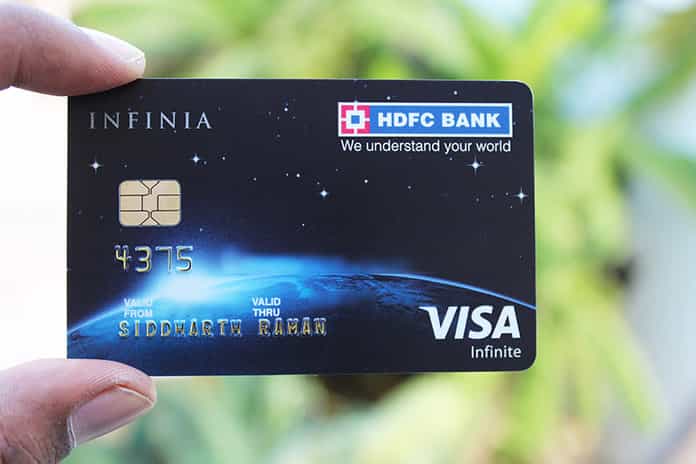 With this credit card, you can avail a complimentary club Marriott membership along with access to top golf courses in India and abroad. Travel by air and access unlimited lounge service all over the globe. Users also receive up to 5 reward points on every spend of INR 150 along with personal concierge services.
Regalia Credit Card
On top of the list in the category of lifestyle, specific credit cards are this one. If you like to experience luxurious indulgences, this card is meant just for you.
Being the owner of this card grants, you access to a complimentary zomato gold membership for up to a year. If you are a frequent flyer, this card gives you access to an airport lounge at over 1000 destinations. Plus, for every spend of INR 150, you will earn four reward points on this card which can be redeemed later.
There is a bonus reward of 15000 points for a spend exceeding INR 8 Lakhs.
Platinum Times Card
If you like to use a credit card to pay for entertainment-related expenses, then this card is meant for you. Using this card gives you access to bookings on movie shows through BookMyShow, and there are great offers waiting for you on dining spend.
Spending money on this credit card can be rewarding for you too since you receive 3 points for every spend of INR 150.
Intermiles HDFC Bank Signature Credit Card
For those who love to travel, this is an excellent credit card option from HDFC bank. Not only does this card grant you complimentary access to domestic and international airport lounges, but it also brings other benefits which reward you for every spends.
As a welcome gift, you receive the benefit of earning 8000 InterMiles. Additionally, for every INR 150 spent on the card, you stand to gain 6 InterMiles as well. Also, for the very first year, you get the benefit of an InterMiles Silver tier membership.
Indian Oil HDFC Bank Credit Card
Benefits in terms of fuel can be accrued by using this credit card option. The unique rewards earned through this card make it highly attractive for you to own a credit card from HDFC.
Using this card to pay for your fuel expenses can give you the benefit of up to 50 litres of free fuel over a year. The amount spent on fuel will be earned as fuel points for up to 5% of the total spend. Moreover, you can also earn one fuel point for every INR 150 spent on the purchases.
This card also brings you the benefit of a 1% fuel surcharge waiver.
Easy EMI Card
If you plan to use a credit card for payment of EMI's, then this is an ideal credit card to use for that purpose. For all your online spending, you will receive a cashback of 2.5%. Additionally, you will receive 1% cashback on all spending which is made offline.
On an expenditure of INR 10000 and more, the card allows automatic conversion to an EMI of 9 months. On all bookings which are made for flights and hotels, you will receive a cashback of 5%.
Business Regalia
For your business purposes, this credit card from HDFC will prove to be an efficient option. It offers some remarkable features which include an interest-free credit period of up to 50 days and four reward points on every spend of INR 150.
You can visit the airport lounges on a complimentary basis for up to 6 international and 12 domestic airports. On spending made for the purpose of telecom, railway, electricity, dining and taxi, you will receive a cashback of up to 5%. The card also offers a travel insurance feature of up to 1 crore.
Bharat Credit Card
You can choose this general-purpose credit card from HDFC bank to meet your financial requirements. It will provide you with a 5% cashback on all railway bookings, fuel expenditure and bill payments made through it.
Additionally, you can score cashback on several other expenditures as well.
Diners Club Premium Credit Card
Apart from earning reward points for every spend of INR 150, you will also receive the benefit of lounge access at airports on a global scale with this credit card. This card also grants you access to some premium services such as concierge services, which you can utilise for reservation at golf courses, hotels and cars.
In Conclusion
Owning a reliable credit card can be a rewarding experience once you understand how to use it. While many people consider it as an added financial burden, a credit card can prove to be an item of value under any circumstances.
You can use a debt payoff calculator to estimate your expenses for a given month and determine if a credit card will be worth your use. There are many benefits of owning a credit card from HDFC bank, which is among the top reliable banking institutions in India.
So, if you are already a customer of HDFC bank or planning to equip yourself with a reliable credit card from a bank, the above-mentioned options are ideal to consider.