Vietlott is a new type of lottery that has been on the market for several years. However, Vietlott has quickly caught up with the market and launched different types of play. Let us know more about the lottery Power 6/55 of Vietlott and the way to play this lottery.
A Few Basic Things About Vietlott
Vietlott is a self-selected lottery type, player can choose any number following the rules of vietlott. Now, Vietlott have 5 options for players to choose. They are Power 6/55, Mega 6/45, Max 3D, Max4D and Keno. Every option have different rules and reward time. Refer to vietlott lottery guide at Vin.fun.
Mega 6/45: Starts at 18:00 every Wednesday, Friday and Sunday.
Max 3D: From 18:00 on Mondays, Wednesdays and Fridays.
MAX 4D: From 18:00 on Tuesdays, Thursdays and Saturday every week.
Power 6/55: Starting at 18:00 on every Tuesday, Wednesday and Saturday.
Keno: 10 per session, from 06h00 to 21h55 daily from Monday to Sunday.
All results are broadcasted live on Today TV and Vietlot's website Or player can also send messages in Mega or Max syntax to 8179, 9141,8130 or 9939 to receive the fastest results.
In all types of Vietlott, if no one receives the rewards during the day, it will be accumulated until the next reward.
Why Should You Play Power 6/55?
If you choose vietlott, it seems you want to try your luck with game control in hand. Because you are the people choose the numbers, you are the person to decide the ticket numbers. If you choose power lottery 6/55, it is the same that you control the game in your hands.
In addition, Power 6/55 elective computer lottery is a new product of Vietlott company, launched in August 2017. The prize value is very attractive with 2 Jackpot prizes. Jackpot 1 from 30 billion and Jackpot 2 from 3 billion. Of course, the prize value will still be accumulated after each draw if no winner has been found. Now you have got to know about the fascinating power 6/55.
Let's find out about the rules of this lottery!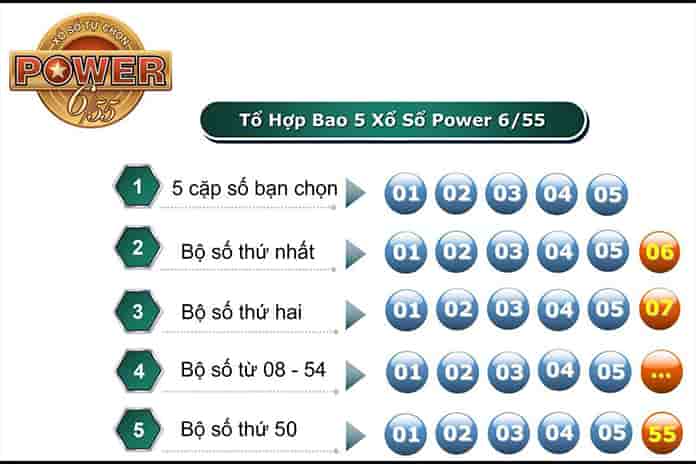 How You Can Play Power 6/55?
Compared with the mega 6/45, Power 6/55 is diverse, rich and harder to win. However, that is why the prize is much more attractive. To participate in playing power 6/55, you have to choose any 6 pairs of numbers in the range from 01 to 55. There will be a total of 7 draws to find the lucky number. During these seven draws, the 6 first draws will find the winner of the Jackpot 1. If you have 6 pairs of numbers same with 6 first draws, you are the winner of Jackpot 1. Reward value if accumulated VND 30 billion more previously no one has won. The last draw to find a special number, those who have matched the 5 times in the previous 6 draws, if there are extra matches this special number will win a Jackpot 2 – minimum of VND 3 billion.
With the big reward value, have 3 ways for player:
Single: The player will choose 6 pairs of numbers in the range from 01 to 55. 6 pairs of number will make a set of numbers to participate in the prize draw.
Every set of numbers is valid for 1 participate in the prize draw. The amount you pay for each set of numbers is VND 10,000.
5 combos: The player will choose 5 pairs of number from 01 to 55. The last pair of number the system will choose for you. After that the system will mix 6 pairs of number to make 50 sets of numbers. The amount you pay for total is VND 500,000.
7 combos to 18 combos: Similar to 5 combos, player will choose 7 pairs of number to 18 pairs of number in the numbers from 01 to 55. After that system will mix the pairs of numbers and make the many sets of different numbers.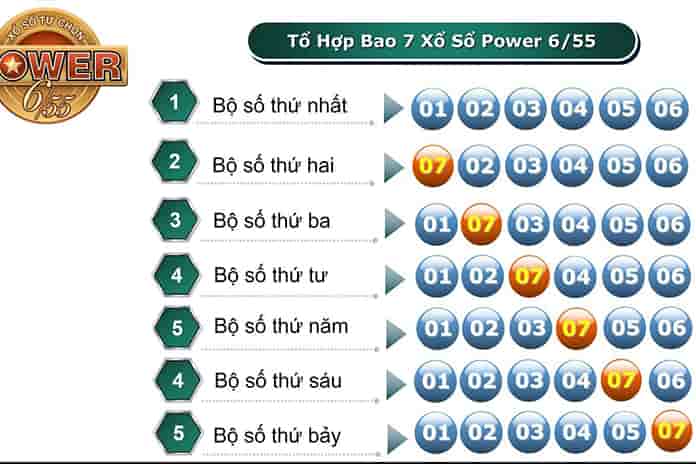 I hope when you read here you can understand clearly about the ways to play power 6/55. So, if you win the lottery how can you get the money? If there are more lucky people like you how much reward will you receive? Read more information with us.
How You Can Receive The Reward?
Incase if there are more than one person who won the Jackpot 1. The reward value will be divided according to the player's participation value. For example, if there are 2 people winning the Jackpot, each person will receive 15 billion (30: 2).
To know if you are the winner or not, you can look up the results on the website https://vin.fun, watching broadcast live on TodayTv, Vietlott website and player can also send message in Mega or Max syntax to 8179, 9141,8130 or 9939.
You can go to any of Vietlott's official lottery or sales center to take the reward. Incase if you came to redeem at Vietlott's Point-of-Sale or Lottery Centersyou're your reward is denied without any reason, you can reflect the information to Vietlott through the following methods:
+ Via Customer Service Center 1900.55.68.68
+ Via Email: contact@vietlott.vn
Something important, you must keep your ticket normal, should not have any problem with it. You must take your valid Identity Card, Citizenship Card, Passport or Visa. A valid reward authorization letter (certified by the local authorized person) in case the claim is made through the authorized person. Like the traditional lottery with the reward value of VND 10.000.000 or more you must pay tax for government which is10%. The lottery issuer will deduct from your reward value. In the 60 days from the lottery issuer published information about reward, you must connect with them about your ticket and after 5 days from receiving your information they will pay you reward money. Money can be paid by cash or bank transaction.
We hope that the information in this article helps you understand clearly about Vietlott lottery power 6/55 and hope you will research carefully to win a valuable prize from Vietlott. Whether the lottery or game is introduced at https://vin.fun, we recommend that you control your budget and behavior. Do not spend too much money and time on this activity. Thank you!
Also Read: A Few Tips On Playing The Lottery That Few People Know