Tonor 12 Selfie Ring Light with Tripod Stand TRL-20 is specially made for bloggers, influencers, upcoming artists, creative stars and more. The TONOR TRL-20 is unique, and even the average person can purchase a selfie ring light without squeezing his wallet.
TONOR TRL-20 improves your video quality and best used for professional zoom conferences. One of the exciting features of toner 20 is its compatibility. Yes, you heard, right. TONOR TRL-20 is compatible with Android and iOS devices. With the remote control, you can control the lighting at will.
Best Features Of TONOR 12 Selfie Ring Light with Tripod Stand
Very Simple To Use
Adjusting the lamp and the tripod is extremely simple. Then plug it into an electrical outlet. You can easily take selfies and record videos with the Bluetooth remote shutter release what you get: 12-inch ring light with 2 meter USB cable, metal tripod, phone holder, Bluetooth remote shutter release, manual and aftermarket card.
Dimmable Ring Light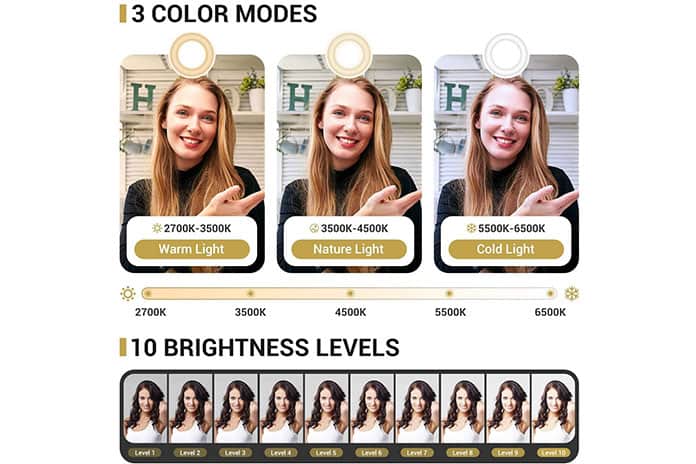 The TRL-20 offers 3 colour modes (cool, warm, natural) and 10 brightness levels. The colour temperature is set between 2700K and 6500K. It is suitable for Zoom, TikTok, YouTube, Makeup, Photography conferences.
Gentle & Bright Light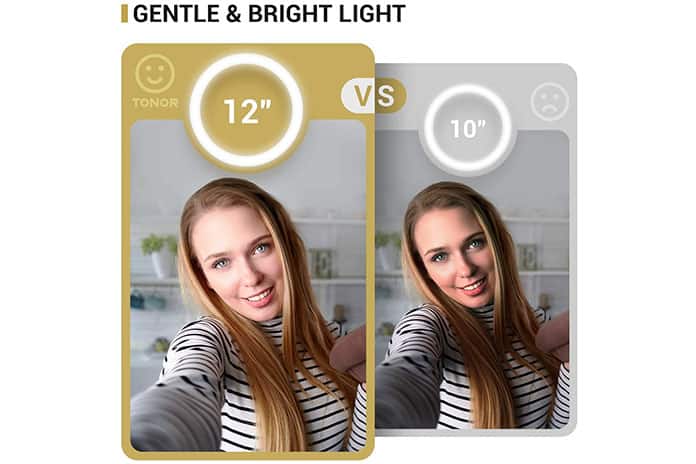 The 160 high-quality LEDs of the 12-inch ring light TRL-20 increase the brightness by more than 30% compared to the 10-inch ring light. It gives off a soft, even glow that smoothes the skin rather than blinding it.
20,000 Hours Lifespan
The ring light consists of a light plate and LED lamps which contain surge protection and electrostatic protection technology, so their average lifespan exceeds 20,000 hours.
Improved Tripod
The included stand has four retractable sections that adjust the height from 16 "to 132". Triangular structure and non-slip rubber ensure stability. The base of the lamp can be adjusted at will to ensure the perfect angle.
TONOR TRL-20 12-inch Selfie Ring Light – Specifications
Model: TRL-20
Dimensions (package): 9.84 x 9.84 x 1.18 inches
Weight (package): 5.5 pounds (2.49 kg)
Size/Diameter: 12″
Color Rendering Index: 80 – 90 (85 approximately)
Luminous Flux: 500 – 800 lumens
No.of LEDs: 160
Lifespan: >20000 Hours
Wireless Connectivity: Yes, Bluetooth (TRL-20)
Compatibility: Android, iOS, PC
Remote Control: Yes, uses a CR2032, 3V
Rechargeable: No, direct use
Interface: USB Type-A (standard), 2 meters length
Types of Colors:
Warm Light (2700 – 3300K)
Natural Light (4100 – 4700K)
Cool Light (5800 – 6500K)
Level of Adjustment: 10 Steps
Accessories:
1 x 12″ Ring Light with USB Power Supply
1 x Adjustable Metal Tripod Stand (metal, 410-1350mm/16-53inch height)
1 x Mount Phone Holder
1 x Bluetooth Remote Shutter
Manual
Input Power: 5V-2A
Price: $49.99 – Buy It Here
Let's Conclude
Whether you are recording YouTube videos or attending a Zoom business meeting, the TONOR TRL-12 Selfie Ring Light is perfect for you. The ability to control temperature and light is one of the great things about Tonor 12. The device is also useful if you record high-quality videos for a long time.