How do you feel if you win a lottery? Do you feel that you are a lucky guy? Most of us think so. However, sometimes, winning a lottery is not lucky at all.
Winning a Powerball prize, you can start enjoying your life and this is what all people want. They spend their money buying some lottery tickets every day with the hope that someday, they will be lucky and get a huge amount of money for their efforts. It cannot be denied that the money came from a jackpot award can turn your life into a better page where you can buy a fancy car, live in a luxurious resort and wear fashionable clothes.
According to Brian Benham, the president of Benham Advisory Group, 70% of jackpot winners lose all of their prize money in just a few years. Many of them have no plan for the massive changes in their lifestyle, they do not set a budget and finally end up losing all money.
Winning a jackpot does not necessarily mean that you are lucky. In fact, it means that your property has been added many digits and you will experience deep changes, or complete changes, in your life.
Jeffrey Dampier
This man won the lottery prize of up to 20 million dollars in the Illinois lottery in 1996. This huge amount of money is what brought him many troubles. Even though he was very generous with his lottery prize, bought gifts to his family members and took them to vacation, it seemed that they were not satisfied with it. This was not enough for his sister-in-law and her boyfriend. They planned to kidnap and kill Jeffrey Dampier in 2005. The murder has obsessed his wife for a long time. Once in the Tampa Bay Times, she told that she is afraid to go near the lottery.
Evelyn Basehore Nee Adams
Evelyn Basehore nee Adams might feel she was the luckiest woman in the world when she won 2 New Jersey Lottery in the 1980s. The total money she received was 5.4 million dollars. However, it seemed that she had no idea how to use it well because she threw her fortune away in Atlantic City. Her huge amount of money had gone this way, leaving her in poverty again. According to NY Post, in 2012, she was broke and homeless and had to work two jobs to make the end meet.
Donna Mikkin
Winning the total amount of 34.5 million dollars in the New York State Lottery in 2007, Donna Mikkin thought that her life was going to turn a new page. However, this page was not perfect at all. In a blog post in 2014, she said that she had to suffer from emotional bankruptcy. She became more concerned about how she was being judged and perceived.
Vivian "Viv" Nicholson
Another name in this list of unlucky lottery winners comes from Britain. Vivian Nicholson won the lottery prize of 150,000 pounds in 1961, which is equivalent to more than $5 million in 2016 (taking inflation factor into account). When she won, she cried "spend, spend, spend" and just poured out her money without thinking about the tax. Finally, she was unable to pay her tax and ended up working as a stripper.
Sandra Hayes
Winning the Powerball jackpot in Missouri in 2006 is not a good experience for Sandra Hayes. Rather, it was a chance for her to realize the real characteristics of her friends. She split this prize of up to $224 million with a dozen coworkers. In her meeting with The Associated Press, she revealed that her friends and family became greedy. They were desperate for a part of her prize and this was what made them greedy. That hard fact caused her a lot of emotional pain. Those she loved were turning into vampires, trying to suck her money.
Janite Lee
This woman won the lottery prize of 18 million dollars in St. Louis in 1993. Much of her money was donated to charities and political campaigns of Bill Clinton and Al Gore. Putting her money on good works, but she ended up slipping into enormous debt, which left her in bankruptcy.
Abraham Shakespeare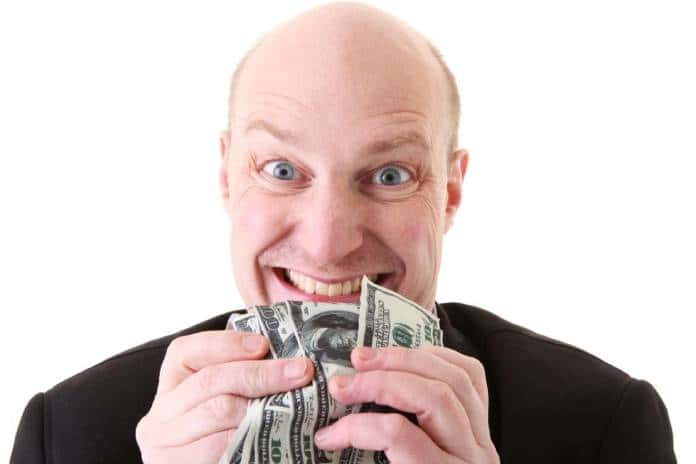 Maybe one of the most unlucky lottery winners is Abraham Shakespeare. He won a lottery jackpot of $30 million in Florida in 2009. His friend Dee Dee Moore betrayed him due to this money. Shakespeare was shot twice in the chest and buried under a concrete slab by his friend Dee Dee Moore.
Billy Bob Harrell Jr
Billy received 31 million dollars in 1997 as the Texas Lottery jackpot. Right after getting the money, he quit his current job and bought a new house for himself and his family.
Jack Whittaker
With the jackpot of up to 315 million dollars in 2002, Jack Whittaker was a millionaire. However, this money did not stay with him for long, neither his daughter nor his granddaughter. Four years after winning the lottery, he was found in a broken situation with his daughter and granddaughter's death from a drug overdose. While spending his time in a car at a strip club, he was robbed of 545,000 dollars.
Denise Rossi
Denise Rossi won 1.3 million dollars in the California lottery in 1996. Instead of living a wealthy and happy life with her beloved husband, this greedy and selfish woman decided to hide this prize. She divorced her husband just two days from the winning lottery day. Realizing something wrong with his wife, the husband found out what she had hidden and sued her. According to the judge, she acted out of fraud and malice; thus, they decided to award all of her winning money to her husband.
Winning a jackpot is what many of us are dreaming of. However, do all lottery winners enjoy happy and wealthy lives? Not all of them. Sometimes, winning a jackpot puts you at danger, steals your beloved one or helps you determine who is your real friend.
Not necessarily a lottery, you can participate in many other online games, such as participating soi keo and predicting football results. Check https://sieukeo.com/ty-le-keo. This is how the participating players predict football. Playing lottery, football betting has never been considered an entertaining game. It is even considered a vice, it can be addictive and bring many deadlocks to your life. Anyway, take control of your finances and don't spend too much money on it.
Also Read: A Few Tips On Playing The Lottery That Few People Know