YouTube has incorporated new innovative tools based on augmented reality and 3D technology, among which a feature that allows you to try on makeup while watching video tutorials stands out. YouTube Launches An Augmented Reality Function To Test Your Makeup During The Tutorials
It's no secret that Youtubers specializing in beauty secrets have millions of followers. For this reason, many makeup brands take advantage of the platform and its influencers to present their products. Google's new AR Beauty feature will allow YouTube users to virtually test those products.
The tool relies on augmented reality to create a split screen. YouTube content is played in the upper half; while in the lower part we see ourselves and can do the virtual makeup test. For this, the system uses front cameras that capture the user's face and AR filters to apply virtual makeup samples. Thanks to machine learning, the tool works in a wide range of skin tones.
Also Read: Top 10 Technologies To Learn In 2019
Google has already tested this feature with several beauty brands. Thanks to these tests they have achieved that 30 percent of the viewers activated the AR experience in the YouTube iOS application and spent an average of 80 seconds trying on the virtual lipstick.
The tool is still in alpha version, but can be found through FameBit, Google's own brand content platform. Now it is up to each brand to implement the AR Beauty Try-On tool. At the moment, the first to do so has been the MAC cosmetics brand.
On the other hand, YouTube has also incorporated a new platform to create 3D ads. This new 3D screen ad format called ' Swirl ' will help brands offer a more interactive and engaging experience.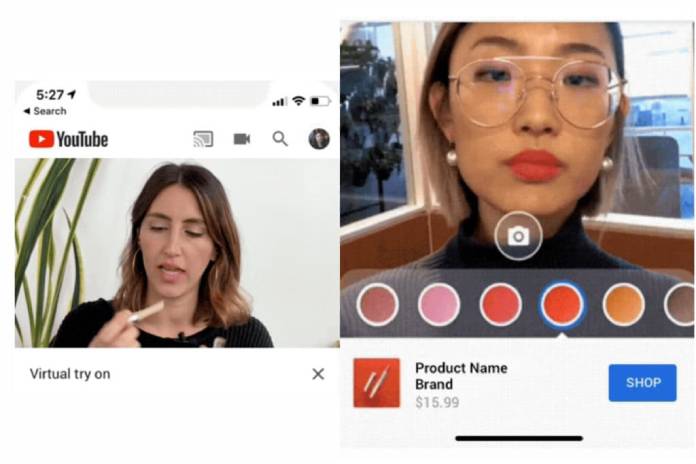 "Swirl brings three-dimensional assets to display advertising on the mobile web, which can help educate consumers before making a purchase. They can zoom in and out directly, rotate a product or play an animation", they explain from Google.
Available through Google's Display and Video 360 formats, Swirl ads will allow brands that have existing 3D assets to incorporate them into their ad units. Google is also adding a new editor to its Poly 3D editing platform to make it easier for brands to create 3D advertising experiences.