Have you ever compared your website with others? Have you found that other websites have innovative, beautiful, and aesthetic designs? If yes, then it's time to consider user experience. After website designing and developing, you need to make sure that the website should be tested with a perfect website testing tool. It can make your site compatible with multiple platforms as well as accessible via all devices.
Well, testing your webpages is a mandatory task. Although, figuring out all the features in different browsers can reduce your daunting task. In this post, we will share the good news that several website testing tools are available to do tests without downloading all browsers manually. Comparium is considered as the best website testing tool according to our research.
Many times, we note that many people who are running a site as well as spent a good amount of money on this website are not aware of the business technical aspects. Fortunately, we have brought a website testing tool which is providing a great value. The name of this tool is Comparium. There is no need to make a new account to use the Comparium tool online.
If you are thinking that the process of using Comparium is a daunting task, then you are wrong. Well, it's easy to understand and user experience. Comparium tool works with almost all modern browser like Safari For Windows, Google chrome, Microsoft Edge. You just put your website URL and start performing test it through the option of the OS & browsers.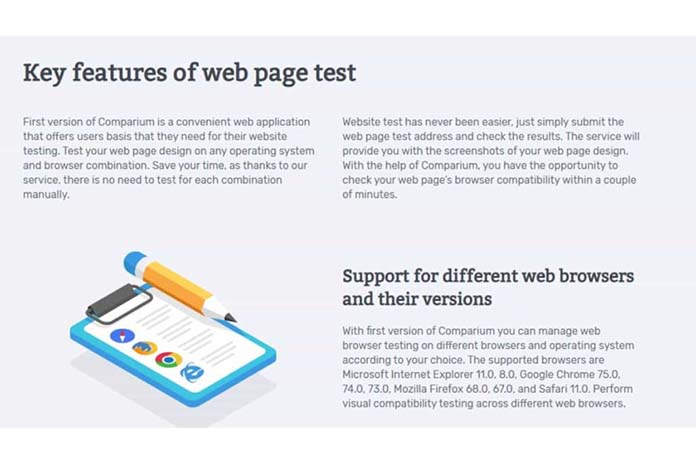 This tool is secure among the cross-browser testing tools available. You will get relevant & effective testing either the browser runs on multiple OS and browsers. Comparium can replace the monotonous nature of the task providing the business website owner to test the website for free. The big advantage of using this incredible tool is that it can be run on various versions of OS. Thereby, it can be said that it is easier for website designers and developers to test different pages via the tool.
As we have already discussed that this tool offers services for all the major browsers and it is your choice which browsers you want to choose for work. Even now, there are a few browsers that will be included in the tool feature. These will be updated in the next versions of this tool.
By using this incredible cross-browser site testing tool, the website owner may test a web page that is designed for a specific browser.
Having said that, Comparium has great value for web developers who can test the websites by using this tool. Well, to stand out from the competitor, the website compatibility plays an imperative role so that it can be used through multiple OS as well as browsers. Did you test your site via Comparium ? If no, then you may lose a good thing. Do it quickly and enhance the user experience of the website across different browsers as well as platforms.
Also Read: Best Project Management Software for Marketing Teams