Do you want to avoid costs associated with faxes? You will need online fax services. Remember, you can send and receive a fax online for free from Google without any trouble. With the assistance of a third-party service like CocoFax, things will be extremely easy and reliable.
You will need a fax number to make the faxing easy. Keep it in mind that faxes work on telephone lines through analog signals. Computers, smartphones, and the internet are based on digital design.
Keep it in mind that faxing via Google involves Gmail. You can use your Gmail ID to send and receive faxes. Things will be similar to landline phones. Remember, you will need the support of online fax companies. If you need the best support, CocoFax is a reliable name for you.
CocoFax: A Recommended Service to Send Fax from Google
To send and receive fax through Google, CocoFax is a reliable name. Keep it in mind that CocoFax acts as a translator between the fax interface and the Gmail interface. You have to use your email ID to get your CocoFax account.
After creating an account, CocoFax will offer a free fax number. This number will be displayed on your faxes. Moreover, you can get thirty days to evaluate the services of CocoFax for free. They are famous for providing encrypted and HIPAA complaint faxing services.
For its unique features, speed and security, it gets recognition from PCMag, TechRadar, Toms Guide, and Digital trends. No doubt, CocoFax is a reliable name for online fax services.
Send and Receive Fax Online from Google
If you want to send and receive fax online from Google, here is a simple procedure to make things easy:
Step 01: In the first step, you have to sign up with CocoFax using your Gmail ID. It will help you to get the advantage of a free trial for 30 days. Moreover, you will get your fax number. Now you have to use this email ID registered with CocoFax to send and receive emails.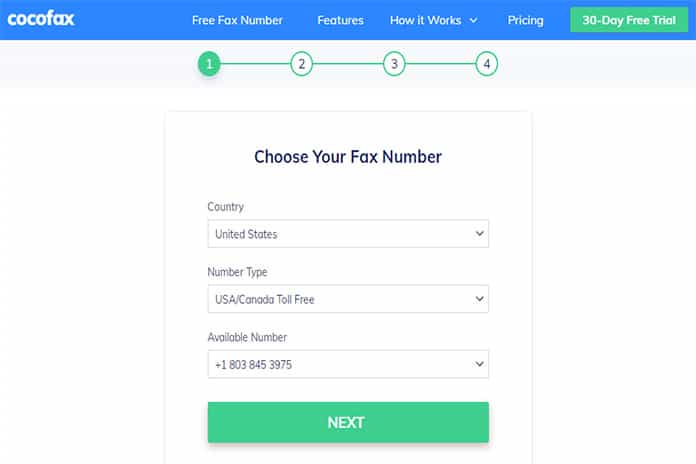 Step 02: After signing up, open your Gmail account on a web browser or use a Gmail app on the phone or PC. Tap on "create email" and write the address of the recipient along with @cocofax.com.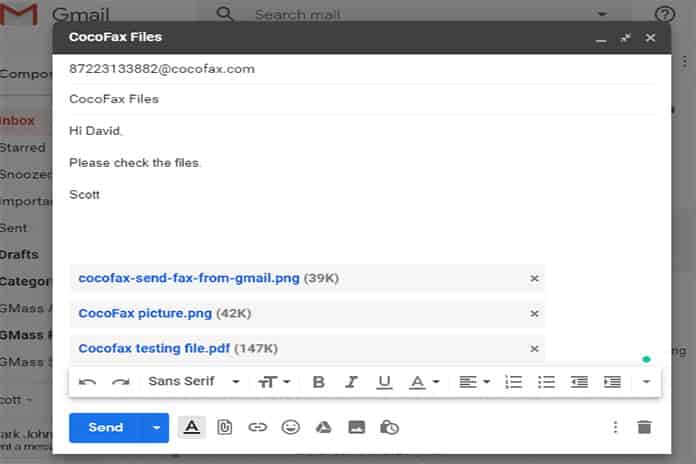 Now you have to attach your document in different formats, such as jpg, png, xlsx, docx, doc, etc. Feel free to create a cover page in the body of the email.
Step 03: Once you are done with everything, double-check details and click on "send". CocoFax will dial the fax number of the recipient to send your message.
Receive Faxes with Google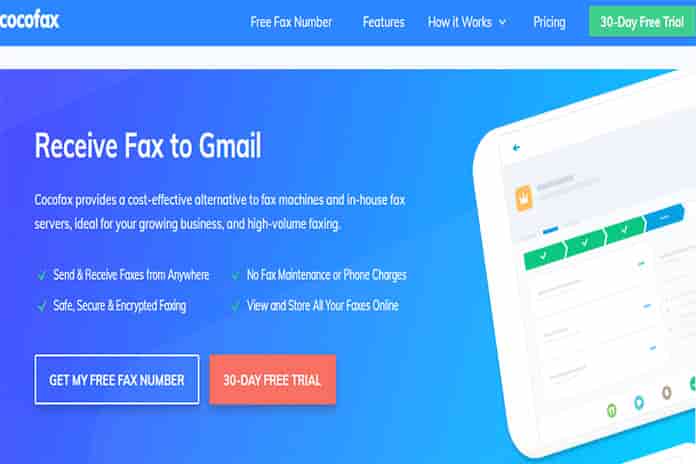 It is easy to receive faxes with Gmail as compared to sending. Use your registered email address to receive faxes with Google. Remember, CocoFax will automatically receive faxes on its provided fax address. You can check your inbox or dashboard of CocoFax to check received fax messages.
Fax Easily from Google Drive
Fortunately, you can send faxes directly to Google Drive. Numerous businesses use Google drive for their faxes and documentation. CocoFax understands the importance of Google Drive and offers addon.
Feel free to integrate CocoFax addon with Google Sheets and Google Docs to send faxes directly. See these easy instructions to send faxes from Google Drive.
Get your CocoFax account and download its addon for Google drive. The addon will be automatically installed. Open sheets or a document on Google drive that you want to fax. To send faxes, you have to tap on addon and choose the "Send" option.
After opening the popup, you have to log in with a CocoFax account. Enter the fax number of the receiver to send faxes. Feel free to enter a cover page for fax in the required field. Your email will have notification of successful fax transmission.
Conclusion
In general, a combination of fusion and Google can be the right choice for businesses. With Google fax, you can quickly send domestic and international faxes. You should not worry about delays and hacking attempts.
CocoFax will help you to receive and send faxes for free. It is cheaper than a fax machine and other things associated with bulky machines. You can turn your computer or smartphones into a virtual fax machine.
Google fax is a portable solution for everyone. You will not be restricted to a fax modem or fax machine. With CocoFax, you can pick a free fax number as per your preferences.