When your SD card is locked- you're restricted from using any of your stored files.
Even if you try to reinsert the SD card again, and again- it'd still remain helpless.
When you reinsert your locked SD card you'll probably find these lines- " the SD card unable to write data" or " card is locked"
You cannot modify saved data or add new data to a locked SD card. Here are three working ways to unlock an SD card. You can unlock an SD Card for digital camera or a phone.
The First Solution – Slide Up The Lock Switch
Step 1: Remove the SD card from your smart device (while you can unlock your SD card without unmounting it, taking it out will be much safer, to protect your data.
Step 2: SD cards have a locking switch. You can find the switch on any corner of the card (did you find a sliding plastic knob? That's the switch)
The switch is usually at the bottom down of the card. There's a "lock" written on it.
You'll find the unlock switch at the upper part of the SD card (written as "unlock")
Step 3: Slide up the switch towards the upper part of the card. Doing this will unlock your SD card.
Step 4: Check for success- can you modify your stored data? If you're able to modify these data- then you just unlocked your SD card. You can now store and load your data into it.
But if the problem persists- continue reading.
The Second Solution- Toggling The Lock Switch
Sometimes, even when you push the switch upwards, it still doesn't work. The reason is that although you've slid the plastic switch upward, it never affected the interior circuit.
The solution here is to toggle the lock switch
Step 1: Slide down the "lock" switch back to the "lock" position. Let it stay there for 10 seconds.
Step 2: While applying a little force, continuously slide the lock switch upward and downward for up to 5 times.
Step 3: Now, stop by putting the switch to the unlocked poison. Your SD card should work again.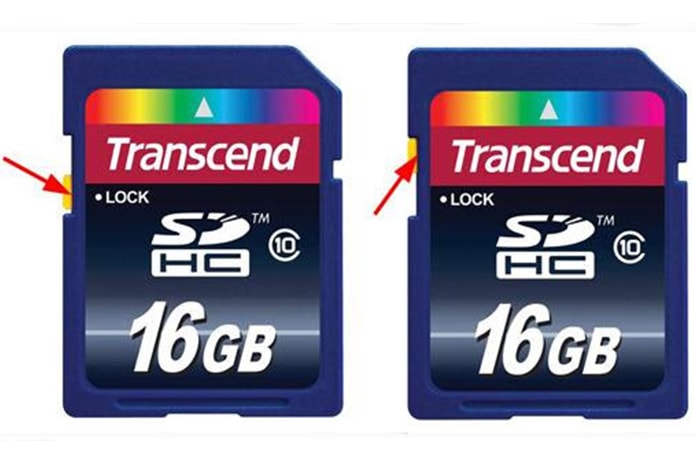 Third Solution – Unlock The SD Card Permanently
If after you slide the card up, you still encounter the same problem with your SD card, then continue reading.
Lock switches materials are high-grade plastic. And most times, the friction that occurs between the switch and its underlying plastic material prevents its movement.
So a slight degradation of the material will stir up gravity that will make it slide down and causing it to switch from unlocked to locked easily.
Also, if you subject it to a slight shock or jerk, it may start to move down to lock.
Either way, here's what to do:
Unlock the SD card and apply a little pressure to knock the device
If it switches back to "lock," then it's time to apply a little art and craft.
Step 1: Switch the SD card to unlocking position
Step 2: Apply some amount of glue underneath the switch. Also, apply it below the switch- it makes the switch glue to the position. However, your card will remain permanently unlocked.
Step 3: Copy all your relevant data to other SD cards.
That's because this affected SD card may not last long.
However, you can always use it so far it does not get damage completely. But you may probably not be able to lock it again.
Step 4: If there's a warranty on your card, kindly get in touch with the manufacturer- to have the faulty card replaced.
Remember, some SD cards have a lifetime warranty while others have a few years of damage protection on them.
Why You Should Lock Your Card
SD cards store different kinds of data files- from your favorite music folders and vacation pictures to other exceptionally crucial documents.
Today you can use the card in a variety of devices including, mobile phones, laptops, desktops, cameras, and gaming consoles.
It's helpful to lock your SD cards if you have important information or documents you want to keep.
Secondly, it is important to lock your card if other people use your device.
If you unlock your card, your files may accidentally get deleted. Sometimes, your works and important data may be lost to this.
Locking your SD card also prevents your card from getting modified.
Also, a locked card is less prone to malicious viruses and spyware.
Your card doesn't accept new files, so it reduces its risk of contracting viruses. If you don't use your device frequently, then we advise you to keep the SD card locked.
It's not difficult to unlock. It takes between 30-45 seconds to have your car unlocked.
Remember, it's better to unlock your card for less than 45 seconds than to lose all your important data.
Also Read: Each Step a Day – Small Efforts to Successful Entrepreneurship